Infrastructure as a service: how does it work and why is it important?
5 min read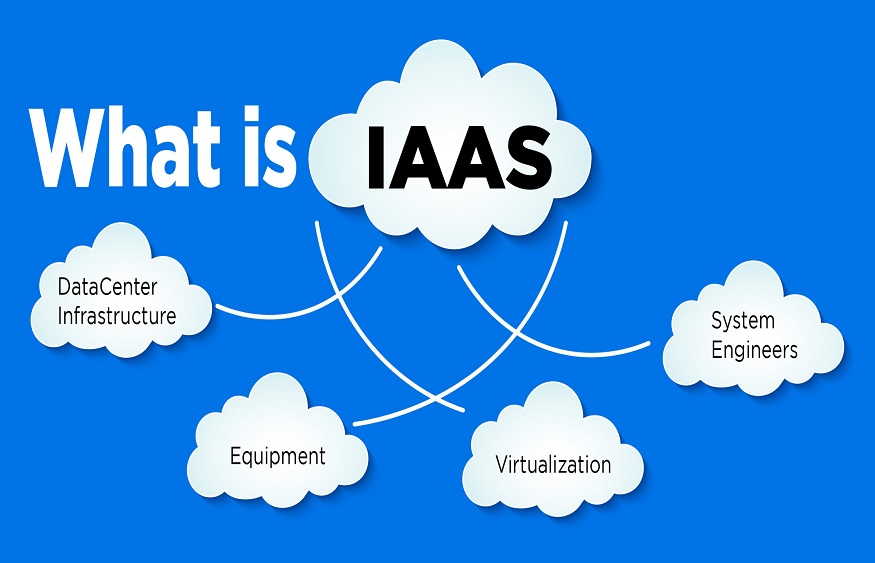 Cloud-based services are unquestionably the technology and computing infrastructure of the present and the future. Businesses of all sizes and in every industry vertical are progressively embracing and deploying cloud-based applications and services as a component of their present IT infrastructures. The introduction of solutions like infrastructure-as-a-service (IaaS), which offer flexible infrastructures and allow organizations to concentrate on their primary missions without allocating resources to particular parts of IT administration, is causing this transition. Continue reading to discover more about infrastructure as a service.
What is infrastructure as a service?
IaaS, or infrastructure as a service, is a type of cloud computing offering online computing resources. IaaS, platform as a service, and software as a service are some of the three basic cloud computing services.
In the IaaS model, the cloud service provider controls IT infrastructures, including storage, server, and networking resources, and offers them to subscriber companies via virtual machines accessible over the Internet. IaaS can provide enterprises with various advantages, including the ability to make workloads faster, simpler, more adaptable, and more affordable.
IaaS still enables you to manage things like apps, data, and runtime, unlike a software-as-a-service (SaaS) model. Additionally, the service allows you to adjust your IT resources according to user needs. For instance, by choosing IaaS, you may swiftly add new workloads and boost the dependability of the underlying IT infrastructure without installing extra hardware.
How does IaaS work?
IaaS users can install the remaining components of an application stack using the cloud provider's services after accessing resources and services via a wide area network (WAN), such as the Internet. Using the IaaS platform, the user can, for instance, construct virtual machines (VMs), install operating systems in each VM, deploy middleware, such as databases, create storage buckets for workloads and backups, and install the enterprise workload into that VM. Then, clients can employ the supplier's services to manage disaster recovery, balance network traffic, track costs, monitor performance, and track costs.
Any cloud computing model needs a provider to participate. The supplier is frequently a third-party business that specializes in selling IaaS.Furthermore, IaaS companies provide various services for those infrastructure elements. Among them are the following: invoicing in great detail, logging access, monitoring, security, load balancings, clusterings, and storage resilience, such as backup, replication, and recovery.
As these services become more policy-driven, IaaS users can increase the automation and orchestration of crucial infrastructure operations. For instance, a user can implement policies that drive load balancing to maintain an application's performance and availability.
One of the best use cases of IaaS is storing, backing up, and recovering data. IaaS may be the simplest and most effective method for enterprises to handle data in situations where demand is erratic or might continuously rise. Additionally, enterprises can avoid spending significant resources on managing, complying with, and meeting the legal and regulatory requirements for data storage.
What are the advantages of IaaS?
Now that you know what IaaS is, let's look at the main advantages of implementing this cloud-based service in your business.
Flexibility in scaling
IaaS companies have created IT products that can adapt to specific workload demands because they can never forecast their clients' actual requirements. Therefore, IaaS can quickly scale to match the workload demands, whether you're dealing with a small to mid-sized organization (SME) or a large one. Because of their scalability and adaptability, businesses can readily predict their expansion.
For instance, IaaS may quickly grow up to meet these new requirements when the company meets its initial goals and has the opportunity to expand IT operations. A successful marketing campaign may also cause a sudden increase in traffic to the business, in which case IT teams can immediately deploy resources to handle the surge.
Cost-cutting
The biggest benefit that businesses can get from IaaS is cost reduction. IaaS eliminates the need for capital expenditures to maintain the servers, storage, and networking hardware. IaaS also provides a consumption-based approach to IT resources, which reduces costs by moving the expenditure from a capital expenses (CapEx) model to an operating expenses (OpEx) model.
IaaS customers pay per user by the hour, week, or month. In addition, some IaaS vendors bill clients according to how much virtual machine space they consume. This is less expensive since you pay for what you use rather than paying upfront for hardware that may become outdated sooner rather than later. For instance, you may use IaaS to support e-commerce websites during busy or short-term test and development cycles.
Enhanced security, performance, and support
Plans for business continuity and disaster recovery on-premises can be expensive and complicated, especially if the company is dispersed over several locations. Thanks to IaaS, organizations may readily access their infrastructures online, regardless of location.
IaaS providers have implemented security features, including robust encryption protocols and multi-factor authentication (MFA), which subscribers can use to secure their IT infrastructures. IaaS data centers have numerous network connections, power sources, and cooling systems to prevent productivity hiccups.
Faster time to market
It is typically challenging to capture clients' attention and market share from rival products that have already succeeded unless your product is special or your marketing teams are outstanding. Time to market is crucial for this reason. It enables you to reach out to more potential clients before your rivals.
IaaS can assist you in shortening your time to market by dramatically reducing upfront expenditures. You can quickly construct an IT infrastructure on a tight budget using virtual machines (VMs) without buying expensive physical servers, whose pricing and deployment difficulties could hold you behind by many weeks or months.
It supports an outlook on business growth.
Making decisions about procuring, buying, and maintaining IT equipment is not only expensive, time-consuming, and difficult; it also forces the business to stray from its primary strategic goals. By utilizing IaaS, businesses can spend more time on innovation and company expansion and less time worrying about IT.
The takeaway
Organizations should consider how different providers' technical and service offerings meet business goals and their unique usage requirements when implementing new IaaS.